ABOUT PANINI PETE'S CAFE & MARKET:
Welcome to Panini Pete's Cafe & Market, located in the French Quarter of downtown Fairhope, Alabama.
We're more than just perfectly pressed sandwiches here at Panini Pete's. We've got delicious Angus beef burgers, killer paninis, hand-cut fries and chips, and our Beignets are the best around! At Panini Pete's, we're passionate about "putting real food into our food," which is why our menu features items like house made mozzarella, house roasted meats, house made dressing & spreads as well as fresh baked sweets. Panini Pete's handcrafted Chef driven sandwiches and burgers have made his brand one to watch and was named by Pure Wow the best sandwich shop in the State of Alabama! So come on by and enjoy a meal with us!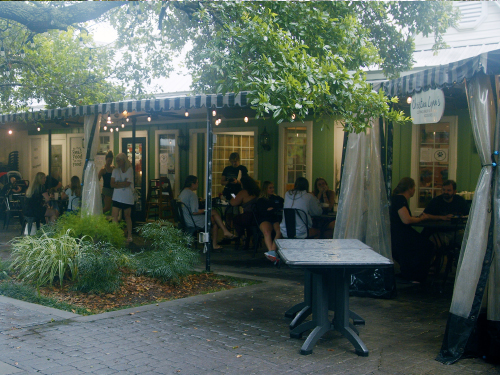 ABOUT PANINI PETE:
Chef Pete Blohme AKA "Panini" Pete currently owns & operates 4 unique PP Hospitality concepts. The newest concept is Squid Ink Eclectic Eats & Drinks "A First of its Kind" gastro pub in downtown Mobile. The popular Sunset Pointe, "A Gulf to table restaurant" on the Eastern shore of Mobile Bay, serving Fresh Gulf Seafood and local produce also Voted one of Alabama's hottest new restaurants in 2015. The Legendary Ed's Seafood Shed in Spanish Fort, Alabama, on the Causeway serving "Southern Seafood with Soul."
Pete also brought on longtime friend and fellow restaurant "rock star" Nick Dimario in to partner up and grow the company. Together they bring over 60 years of professional experience to their PP-Hospitality Group. Their company philosophy is "We put Real Food in our Food"  and "We never met a Stranger"!
Chef Pete is a Graduate of the prestigious Culinary Institute of America in Hyde Park, NY and also currently sits on their Alumni Advisory Council. Pete with fellow Alumni Robert Kabakoff founded the "Run for you Knives" Scholarships 5K Race & Walk at the CIA Hyde Park campus. This annual event provides much needed Scholarship for current students. Pete has achieved headlines nationwide being featured with Guy Fieri on his Live Road Show performing in 25+ Road Shows and featured on a host of Food Network shows such as Diners, Drive-Ins and Dives, Guy's Grocery Games, Guy's Big Bite and The Great Food Truck Race with Tyler Florence on Food Network as well as CMT's Sweet Home Alabama.
Chef Pete is Member of BCA Best Chefs of America. His proudest accomplishment is in being a Founding Member of "The Messlords" a group of Celebrity Chefs that travel the World boosting moral for our US Troops through culinary training and mass feedings in amazing locations like Japan, Spain, Italy, Africa, Bahrain, Romania, Cuba, Europe, as well as onboard Aircraft Carriers and Submarines!
To keep up with his Panini Pete Adventures you can listen to Pete on his Podcast "The Raw Ingredients"! (www.hotppodcast.com) look for him cooking, hosting or demoing at great events around the country. Recently headlining at the Super Bowl 51 Players Tailgate as well as Nightclub and Bar convention in Las Vegas! Mostly he likes cooking Beignets in the Fairhope Location!
Currently owns and operates 4 completely different and very unique brands under the PP-Hospitality Group umbrella.
Listen to Pete often on this podcast -The Raw Ingredients – listening in on successful chefs, restauranteurs, and hospitality professionals giving their insight and stories on success.